VONA (WILLEY) FRIEND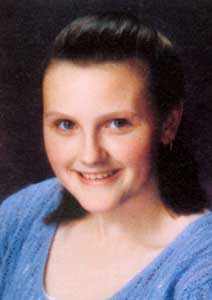 CLASS OF 1999
DECEMBER 14, 1980 - APRIL 30, 2018
Visitation: 6-8 pm Friday May 4, 2018 at the Eddy-Birchard Funeral Home.
Cremation will follow.
Memorials: Huntington's Disease Foundation
Vona Jo (Wiley) Freind, age 37, of Waverly, Ks was set free on Monday, April 30, 2018 at 9:40 am surrounded by her family.
Vona Jo was born December 14, 1980 in Garnett, KS. She is the daughter of Rocky and Renee Keele, and the last Johnnie Willey.
Vona Jo graduated from Osawatomie High School in 1999. On June 19, 1999 she married Chet Friend of Osawatomie. They moved to Ocean Side, California for 1.5 years. They returned home to have two beautiful children, Marissa is age 15 and Dustin is age 14.
Vona Jo loved watching Marissa, Dustin, and all her nieces and nephews play, and riding the 4-wheelers.
Vona Jo had a passion for researching her families genealogy. She also enjoyed books based on the Tudor Period of Henry The VII.
Vona Jo was a published poet, her poem was published in the book Stars in Our Hearts in 2011.
Vona Jo joins her father Johnnie Lee Willey, who was laid to rest May 13, 1997. Also her grandparents Ester and Lloyd Willey of Lane, and granmother Margene Wright of Rantoul.
Vona Jo is survived by her parents Rocky and Renee Keele; her daughter Marissa Lee Friend and her son Dustin James Friend; brother Chris Keele, wife Amy, daughter Jayden Keele; sister Melissa Keele; brother Brandon Willey, wife Whitney, children Rachel, Deana, Johnnie, and Anna; sister Mindy Shipley, husband Jarred, children Cody and Miley; sister Becky Stewart, daughter Kammy; sister Danieele Brown, husband Chance, children Chaseton and Kinzlie; brother Daniel Rose; grandparents Norman and Darcy Johnston.
I could write a book on my fun loving, free spirited baby girl. I recently asked Jo what she wanted the world to know about her. She said "That I love my family." And she made it clear to each one that she did.