LORETTA EDWARDS DIEHM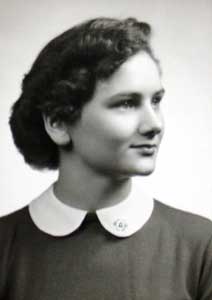 CLASS OF 1956
October 12, 1939- December 25, 2018
Loretta M. Diehm, 79, of Parker, KS, wife of George H. Diehm for 61 ½ years, died December 25, 2018 in her home. Loretta was born in Lane, KS on Oct. 12, 1939 to parents Herman and Odessa (Hay) Edwards. She grew up in the Beagle community and graduated from Osawatomie High School in 1956.
Both the Edwards and Diehm families were active in 4-H and the Beagle United Methodist Church, where George and Loretta developed an interest in one another. George, 5 years her senior, attempted to teach her piano, but the student (in her own words) was more interested in the teacher than the instrument. They were married July 28, 1957 and she never did learn to play the piano.
Loretta was a devoted mother to their three children, Chris Edward, Robyn Renee, and Kevin Dean. Homemaking was Loretta's joy and hospitality was her gift. As an accomplished seamstress she not only served her family, she served as a 4-H leader and regularly judged garment construction for the Miami County Fair. She was passionate about the restoration and preservation of antique furniture for her home, but she also restored at least 40 trunks for family and friends. Her industrious personality was also demonstrated in her flower gardens and quilts. Loretta's hands were seldom idle yet she always found time to create special meals and spoil her family and friends.
An active member of Paola UMC and their Women's Ministries—it was not uncommon for her pies to sell before they even arrived at any particular fundraiser. Her love for serving others was exhibited in her organization and preparation of countless church events, meals, funeral dinners, and meal ministries to families in need in her communities. Loretta led a bit of a double life, serving Paola UMC for over 50 years while maintaining ties in her home community with the Beagle UMC. Loretta was also a member of P.E.O. Chapter CV in LaCygne, KS for close to 57 years.
Preceding her in death were her parents, her brother Loren Edwards, her sister Wanda Smith, and two granddaughters Mallory Diehm and Eliza Luce.
Survivors include her husband George of the home, son Chris and wife Pat (Phillips) Diehm of Parker, daughter Robyn and husband Paul Luce of Wellsville, and son Kevin and wife Chrissy (Hale-Scott) Diehm of Parker. Eleven grandchildren, include Seth Diehm and Audrey Diehm of Parker, Emily (Luce) and husband Ty Haas of Lawrence, KS, Ethan and wife Anji (Monta) Luce of Paola, Elise Luce of Spring Hill, KS, Justin and wife Autumn (Town) Diehm of Greeley, KS, Amber (Diehm) and husband Robert Brocker of Osawatomie, KS, Brittney Diehm of Kansas City, KS, Cody Scott and Garrett Scott of Fort Scott, KS, and Justin Scott of Parker, KS.
Loretta and George also boast of 8 ¾ Great-grandchildren: Taythen, Lillian, Jeremy, Alex, Jace, Gunnar, Ryder, Briar and Baby Henry due in March 2019. There is 1 Great-great grandson Deryck. Also remaining are a host of cousins, nieces, nephews and precious friends to grieve.
Loretta's world revolved around her family, her church and her home. She was a loving woman who was so very loved and her absence leaves an indelible mark on the world.
Visitation: 6-8 pm Thursday December 27, 2018 at the Eddy-Birchard Funeral Home
Service: 1 pm Friday December 28, 2018 at the United Methodist Church of Paola
Burial: Beagle Cemetery, Beagle, Kansas
Memorial: Paola Methodist Church
send c/o Eddy-Birchard Funeral Home P.O. Box 430 Osawatomie, KS 66064